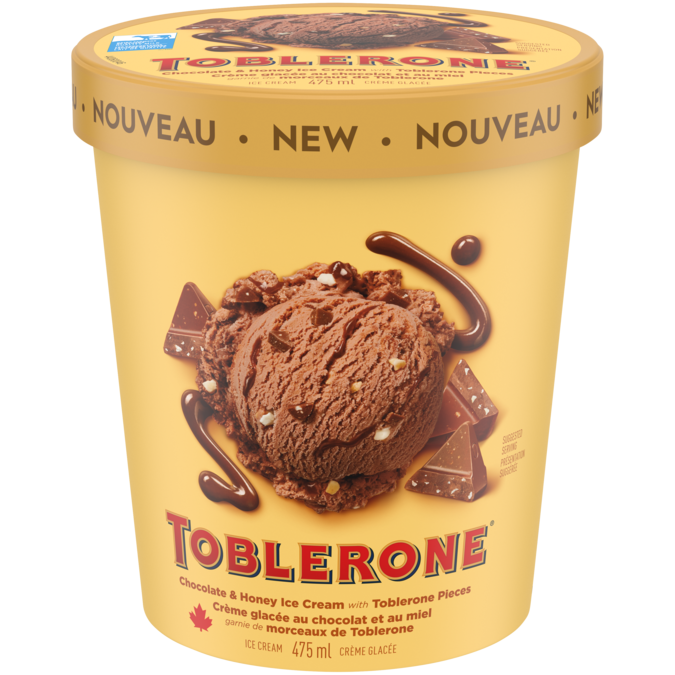 New
NESTLÉ Toblerone Ice Cream
The combination of Toblerone's decadent swiss chocolate-and-honey and nougat, with the slow, creamy savouriness of ice cream is nothing short of pure magic. NESTLÉ Toblerone Ice Cream (475 ml) is an irresistible Toblerone ice cream treat that's sure to take you to chocolatey bliss. Featuring classic Toberlone chocolate-honey and white nougat pieces, with a chocolate sauce rippled throughout, each scoop is absolute delight. Treat yourself, or share the Toberlone love with someone else, with this new ice cream that's sure to be your new favourite.
Features and Benefits
Nutrition Information
Ingredients
NESTLÉ Toblerone Ice Cream
Features and Benefits
Toberlone chocolate-and-honey-flavoured ice cream with pieces of nougat and chocolate sauce ripple throughout

Perfect for sharing a special, truly decadent moment with Toberlone-loving family and friends

Proudly made in Canada with Canadian dairy

280 calories per 3/4 cup (188 ml)

A new ice cream treat to delight chocolate and Toberlone fans everywhere
Description
Features and Benefits
NESTLÉ Toblerone Ice Cream
Nutrition Information
In the event of any discrepancy between the information listed on this website and on each individual package, please refer to the information listed on package.
NESTLÉ Toblerone Ice Cream
Ingredients
Modified Milk Ingredients
,
, Sugars (
,
,
) , Toblerone Pieces (
,
,
,
,
,
,
,
,
,
) , Almond Nougat Pieces (
,
,
,
,
,
,
) ,
,
,
,
,
,
,
,
,
,
,
,
.